O's birthday is coming up and here he is in our sunny morning kitchen planning his purchases for us.
He has changed his mind about the Nigerian World Cup jersey, and now wants the Argentina one.
"The Nigeria one is lovely and all, but it'll be so hard to get …"
He pulls up a picture of the famous light blue and white-striped Albicelestes jersey, this time with white sleeves, on his phone. The phone with the battered screen (luckily he is not pressing us on the phone front)
We are sitting back on the couch, watching the show, listening to the sales pitch.
He's hard to resist, our boy.
"Cool, isn't it?"
There is method in this too as he knows Messi and the boys will last longer than the Super Eagles in the grand football fest in Russia.
O is talking faster and faster, his excitement mounting, all the while drag-rolling a football over and back with his bare foot as he stands there in his shrinking Manchester United dressing-gown, blond hair tumbling over one eye.
So hard to resist.
"And I need a controller for my PlayStation … and those Astros we said we were getting (he said, we just agreed) … and some Fortnite stuff …"
A and I smile at each other as he continues, him spinning the ball, or the ball spinning him … it's hard to tell now, he's talked himself up into such a pitch of purchasing possibilities.
A prancin' and a chancin'
He's a bit of a mathematician, our boy, and is totting up what he reckons all this will cost, item by item. All faux precision.
He knows, and we know, his total estimate is somewhat on the short side.
I have writing stuff to do upstairs, so I stand up to exit.
While we are still in the black.
"I better get to work … I haven't even left the kitchen and we are broke already …"
It's been a nice few days … finally some proper summer weather, and a gorgeous breeze is wafting in from the garden, through the opened patio doors.
A Mom and Dad could easily get carried away on the wafting wind and on our boy's fervour.
Could so easily feel all is well in the world.
And for the last few days it has been.
K and her gal pals had a big night out on the Friday, a school disco for first and second years in Wright's, THE venue on Dublin's northside.
Any excuse will do, but this one was celebrating the end of their school exams and school year.
Any excuse will do, but this one was celebrating the end of their school exams and school year.Any excuse will do, but this one was celebrating the end of their school exams and school year.Any excuse will do, but this one was celebrating the end of their school exams and school year.
We had tried to use the purchase of her ticket well in advance as leverage to ensure much less backchat and hostile behaviour.
It had worked … to a point.
But her excitement all last week was infectious and we just loved seeing our girl so enthusiastic and animated. Even if far more thought was being given to the disco than to her exams.
Of course it cost us a fortune … a new skirt and top … make-up … fake tan … money for McDonalds afterwards … and all sorts of incidentals.
Oh yes, the new shoes online and every day, the interrogation:
"You definitely ordered them, Dad?
"When will they arrive … ?
When the feckin' things finally came she never told me, just straight upstairs with the three girls who had taken up semi-permanent residence in her upstairs apartment.
I only guessed that was what the doorbell ringing and "thank you" was about. The courier delivering the golden slippers.
Slippers? Vertigo, way to go! The precipitation of the heels put me in mind of those mind-altering, cheek-wobbling, death-baiting rollercoasters in Alton Towers.
The Smiler, that was the one that had particularly blanched my knuckles and puckered my bum cheeks when we went there with O's football team.
I would not describe the expression on my face in that photo we purchased afterwards as a smile. More a trying not to whimper grimace.
It really was lovely to hear K and her pals; the exams over, and the YouTube on full blast as they hung out in her room, singing along to stuff I had never heard of, at the top of their laughing,screeching voices.
Luckily this wasn't their first disco, so I was much more relaxed about the minuscule bra tops and bands of material passing for the skirts they almost wore.
They were all together in it, and we knew it was a well-run, well-organised affair, strictly for their age group, and we were like US presidential top security as we planned every moment of the evening from pick up to drop off to collection.
The outfits were a bit of a jaw-dropper, but somehow seeing them all together, with their fake tan, heavy eyebrows, and little tops and skirts, all variations on the same theme, they just looked more like little girls dressing up than junior femme fatales, dicing with stuff they were not ready for.
Dancin' girl and prancin' boy: what other deleriums and delusions will the wafting wind blow into our summer kitchen?
All aboard the Smiler: hold on to our seats and enjoy the ride!
If you enjoyed what you have just read,  try another one! Try them all! Seriously, follow my blog and you won't miss out again. Thanks for reading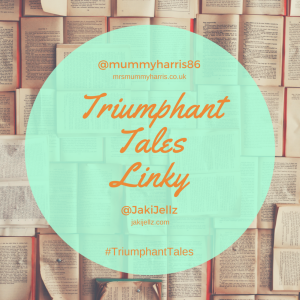 Tales From Mamaville
Reflections from Me
Reflections from Me